Coding Bootcamps and Computer Science degrees are popular routes for students to launch careers in software development. Coding bootcamps average 12 weeks in length, and teach practical skills like building web applications from scratch. They prepare students for a job as an entry-level web developer, intern, or freelancer. Computer science programs average 4 years in length, and teach a wide range of concepts in programming, algorithms, advanced math, statistics, and general electives which may not correlate with computer science.
Coding bootcamps and computer science programs are the two most prevalent ways to start a career as a software professional. But coding bootcamps lack computer science fundamentals, and computer science programs often lack practical experience, and are extreme commitments in time and expense. The gap between what you learn in a coding bootcamp and computer science degree is why we created the Software Engineering Track.
Bloc's Software Engineering Track teaches practical skills and combines them with advanced computer science topics and open-source software development. It teaches you everything you need to be a professional software engineer, and leaves out everything you don't. We know this because we built the program after consulting with companies like Google, Facebook, and Twitter. After consulting with top engineering teams, we developed this chart to represent the programming learning curve: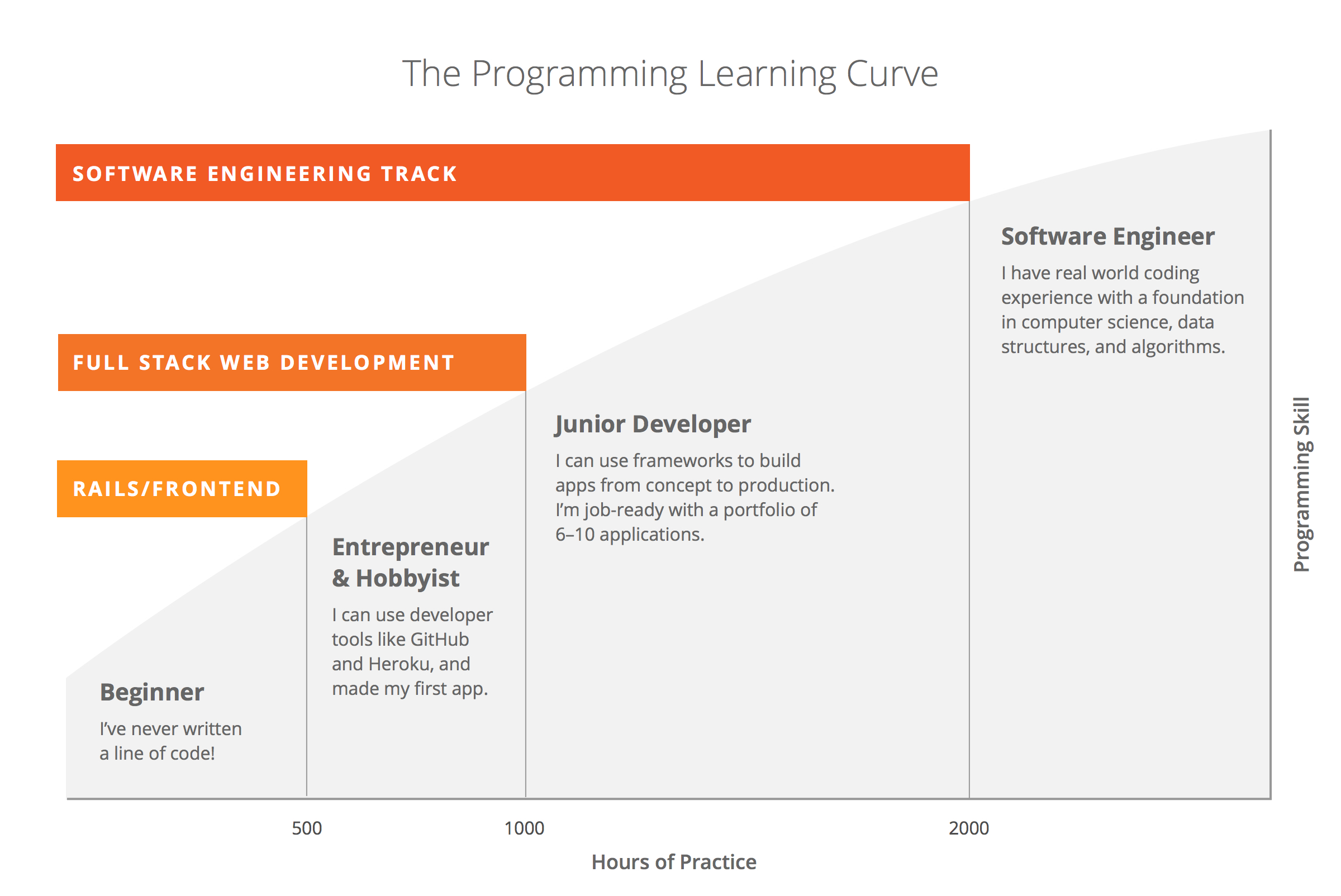 We believe that 2,000 hours of focused study and practice are essential for becoming a software engineer. This chart shows where you'll be after graduating from a coding bootcamp — which is between 500 and 1,000 hours — but it doesn't explicitly illustrate why our Software Engineering Track is more effective than a computer science degree. Let's explore four reasons why Bloc's Software Engineering Track prepares you for a career in software engineering more effectively than a computer science degree.
For more information on why coding bootcamps often fall short, [read this blog we wrote about the topic](NEED URL).
Time is a Feature, When It's Focused
A computer science program is four years worth of full-time study. This roughly totals to 6,000 learning and study hours. Thousands of those hours are unlikely to directly help you once you get a job though. A computer science program forces you to take electives, and advanced classes on artificial intelligence, history of computing, and theory that are not easily translatable to working as a professional software engineer. It's not that these are bad things to learn – they may provide some useful life lessons – but they are not essential for becoming a software engineer. Bloc's program includes 2,000 hours of learning and study hours, and every single hour is meaningful in becoming a software engineer.
Spending one year learning everything you need is a better use of time than spending four years learning many things you don't. There's plenty of time to learn new things in life, but when you're paying to learn, the topics should be directly related to the outcome.
Avoid Life-Altering Debt
Computer science programs range in cost based on factors like residency, school, and financial status. A four year degree can easily reach into the six figures. For this reason, many students are forced to take out loans with interest rates between 4% and 6%. This is life-altering debt that will likely take years to pay off.
Bloc's Software Engineering Track is not cheap — $24,000 is significant amount of money — but with reasonable payment options this amount should not be life-altering. In fact, financing as low as $750/month is available, which allows you to pay for the course after getting a job. Also, Bloc offers a tuition reimbursement guarantee that if you are not able to find a job as a software engineer with a starting salary of at least $60,000, you'll be refunded in full. No computer science program offers such a promise.
At $24,000, Bloc's program is a fraction of the cost of many computer science programs, and offers a tuition reimbursement guarantee on top of that. Your investment in Bloc is much smaller than it would be in a computer science program, and also much safer due to the reimbursement policy.
Return on Investment
ROI is a financial acronym that stands for "return on investment". It explains what you'll earn as a result of an investment. Not only is Bloc's program a fraction of the cost of a computer science degree, but it also employs you faster. After one year, you'll start earning a full-time salary as a software engineer. The return on your investment of $24,000 will be greater proportionally to that of an investment in a computer science degree, and it will also come quicker. The ROI you realize from a smaller investment and earning at a faster pace can have exponentially positive results over decades. But most importantly, you'll also start a career doing meaningful work. Software is eating the world because it solves real problems. As a software engineer, you'll be able to positively impact other people's lives through software, and the value and satisfaction you realize will be incalculable.
Path to Mastery
No matter how great a computer science program, coding bootcamp, or our Software Engineering Track is, it will always pale in comparison to the experience you have working as a professional. The lessons you learn in a classroom setting will never match what you learn when you're on the job. The apprenticeship model – which we employ in the Software Engineering Track – is an improvement over the classroom, as it provides training and lessons in a practical setting, but even it doesn't match the effectiveness of learning on the job.
To become a master at something, you have to practice a lot, and you have to practice in realistic settings. There is nothing more realistic than practicing your skills when you are being paid to do so. In this respect, you want to be careful not to spend too much time in a classroom.
The final phase in the Software Engineering Track is an Open-Source Apprenticeship, where you work on open-source software with other professional engineers. In addition to learning through practical work, you'll build a remarkable resume of open-source contributions. After the Open-Source Apprenticeship, you'll get a job solving real problems for a real company four times faster than you would with a computer science degree.
For more of our thoughts on learning and mastery, [read about mastering software engineering](NEED URL).
Time, Money, ROI, and Learning
We aren't so extreme in our views that we think computer science degrees should be abolished. They do serve a purpose for aspiring robotics and machine learning engineers, and they do many things well in general. But we feel strongly that they can be improved, and the Software Engineering Track is what we built to prove that. In a shorter period of time, with less of an investment, a safer investment, a faster return on your investment, and more effective learning, you will have a better outcome with the Software Engineering Track, and you'll start the path to mastery sooner than you would by enrolling in a computer science program.
If you want to learn more about Bloc's Software Engineering program and how it prepares you to land a job developing software, join us at an online info session. We'll dive into the curriculum, what it's like to be a Bloc student, and details about our 100% tuition refund guarantee.